Which Android from DBZ is your favorite?

Android 13 - Super strong Android created to kill Goku, he fuses the parts of 14 and 15 after they are destroyed to become Super Android 13. He has an accent and is killed by Goku.
Android 14 - Tall grey Android with a ponytail created to kill Goku, he is destroyed by Trunks but Android 13 absorbs his power to become Super 13.
Android 15 - Small purple Android created to kill Goku, he is destroyed by Vegeta but Android 13 absorbs his power to become Super 13.
Android 16 - incomplete Android, released by 17 & 18 aginst Gero's orders. His sole purpose was to kill Goku and only Goku. Because he was released early and was incomplete he does not have the same urge for violence that the other Androids do. He is more interested in watching birds and nature than watching the battle taking place.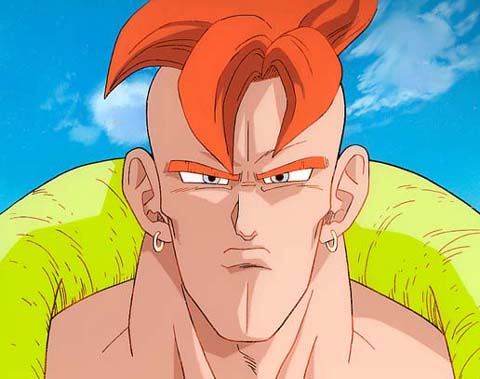 Android 17 - Android 18's brother, created to kill Goku and later be absorbed by Cell. Seems more evil than his sister Android.
Android 18 - Sister Android to 17, created to kill Goku and be absorbed by Cell. Later falls in love with...... Krillin...
Android 19 - Designed to help fight Goku, didn't appear in Trunks' timeline.
Android 20 - Dr. Gero made himself an android and put his brain inside. Devoted his life to killing Goku and the Z Fighters, mastermind behind creating the other Androids and Cell.
My favorite is Android 16, he is a lot different from the others and is strong for being more like a machine than 17 and 18. Android 16 is unique because he enjoys peace. He also would have killed Cell if Bulma didn't remove the self destruction device when repairing him. He is killed by Cell right after talking to Gohan about how important it is to kill Cell, right after that Gohan goes SSJ2. He also rips off Cell's tail in their first fight, if Cell didn't have Piccolo's regenerating cells he wouldn't have been able to absorb the other androids.
Why not the other Androids?
Android 13 is pretty cool in his Super form, but he is kind of strange and he copied Vegeta's hairstyle

. Android 14 didn't seem too creative, he kind of reminds me of Spopovich. Also I don't get how he can break Trunks' sword so easily if that same blade can cut through Hirudegarn. Android 15 is a really odd one, if you take his hat off his brains are showing. His eyes are weird too. Android 17 is creepy and kind of stupid, he is too confident. Android 18, well... She fell in love with Dorky
! Android 19 os a clown loser with his brains showing. Android 20 gets killed by his own creations and his brains get squished!
Member





Posts

: 39


Stuff

: 29


Reputation

: 0


Join date

: 2009-08-03


Age

: 27




---
Permissions in this forum:
You
cannot
reply to topics in this forum